About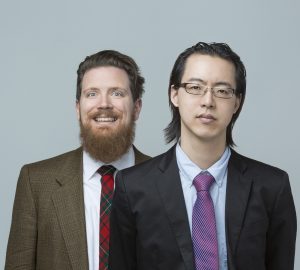 You wouldn't know it by looking at them, but college professors Derrick Chung and Grant McSorley are experts at deception. Though by day their job is to share their abundance of knowledge of math and engineering, by night their only goal is to surprise and delight with mysteries too impossible to explain.
Two of the most well-known figures in the Montreal magic community, they have spent 15 years comfortable in the shadows behind the scenes working with some of the world's greatest magicians to produce shows for the public and private events for their fellow conjurers.
In 2016, they finally stepped into the limelight. With 2-time Canadian champion of magic Marc Trudel directing, their show "Magic Hour" became a sleeper hit at the 2016 Montreal Fringe festival selling out almost every night.
In 2017, the contemplative conjurer Chung returned to the Fringe stage with another hot ticket show "Mystery Hour" with partner Grant McSorley back behind the scenes as consultant, and the return of the multi-talented director Marc Trudel.
Now in 2019, once again the whole team is back, but this time Marc Trudel joins the enigmatic duo on stage in "Magic Hour Plus", an updated version of their original 2-man show with all-new magic, and 50% more magician.